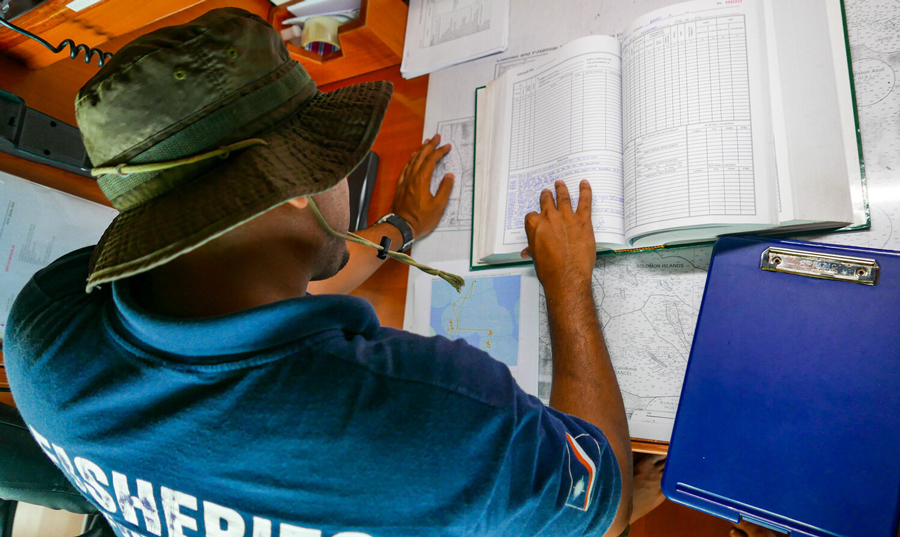 By Kayla Pohl
The decisions we make about our oceans need to be informed by sound data, and more importantly, the process for collecting and interpreting that data needs to be inclusive of the diverse realities, values, and knowledge systems of local marine communities. All too often, however, that isn't the case. Researchers with the University of Washington's Technology & Social Change Group (TASCHA) investigated the reasons why and have collaborated to create a training resource for communities to foster inclusive data-driven decision-making.
Inclusive Ocean Data for Decision-Making is an open-source, adaptable training resource for community organizations such as libraries and nonprofits. Current and former TASCHA research scientists Araba Sey and Chris Rothschild partnered with Yoshitaka Ota, the director of the Nippon Foundation Ocean Nexus Center at the School of Marine and Environmental Affairs, to create the guidebook over the past three years.
Sey, Rothschild and Ota explained the conceptual framework and content of the guidebook in a recent presentation. Inclusive Ocean Data for Decision-Making is a data literacy training tool designed to support local marine communities' full participation in the collection and use of data in order to create policies and interventions to manage oceans and coastal environments. It's also designed to support consistent reflection about the inclusiveness of the process of data collection and knowledge generation.
"We envision," said Sey, "that this type of inclusive process will enable communities to have a stronger voice and be more comprehensively involved in all aspects of knowledge generation for marine decision-making." She emphasized that communities should not only have a voice in the policies that affect them, but that they should also have the tools to gather data to support their own information needs.
"Scientists often assume that traditional or Indigenous knowledge is not 'science' and they tend to give the alternative knowledges credence only when they align with dominant western science."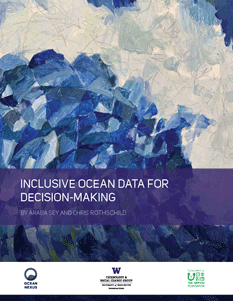 Whereas the ongoing data revolution has created opportunities for improved evidence-based decision-making and for a more empowered and engaged citizenry, this isn't the whole picture. According to Sey, "we are already facing a deepening of data divides similar to the information and digital divides that have contributed to widening social inequality."
When marine scientists do collaborate with local communities, it is often only superficially inclusive. Community participation is low and usually limited to data collection. "We also noticed," Sey said, "that scientists often assume that traditional or Indigenous knowledge is not 'science' and they tend to give the alternative knowledges credence only when they align with dominant western science." And resources to support data collection and use are usually geared toward wealthy or corporate audiences and are inaccessible to local marine communities because they are too narrowly focused on western academic practices.
By contrast, Inclusive Ocean Data for Marine Decision-Making is a resource that community organizations can selectively use, revise, and adapt to support their inclusive data processes. Others, such as marine scientists and policymakers, can also use the guidebook to understand, reflect on, and improve the inclusiveness of their engagement with local communities.
The guidebook draws on the concept of ocean equity, which maintains that societal and systemic inequity can be dismantled through ocean governance. The success of ocean governance has previously been defined by conservation of biodiversity and restoration and protection of biospheres and habitats. But, according to Ota, "If you have a wonderful, beautiful ocean full of biodiversity only shared by a few people, usually rich people, that's not really the way ocean governance is supposed to be."
The guidebook also follows the principles of knowledge democracy, which, according to Sey, "recognizes the legitimacy of all forms of knowledge and acknowledges that there are numerous marginalized ways of knowing that are complex, holistic, valid ways of seeing the world." Knowledge democracy carries the moral imperative to translate information into policy and action, and this informs the guidebook.
Containing 12 interactive modules, the guidebook features practical activities, marine case studies, sample worksheets and prompts for users to reflect on the inclusiveness of data collection and use. The modules are also illustrated.
"We tried to use different art and pictures and representation from different communities to allow voices and realities to shine through," said Rothschild, who was a TASCHA researcher from 2007 to 2021 and is now director of the Global Exchange Academy at Mid-Pacific Institute in Hawaiʻi. Rothschild and Sey are both innovation fellows within the Ocean Nexus community.
The researchers developed the guidebook out of their fieldwork in Hawaiʻi, Japan, and Ghana. They started with exploratory and conceptual work in Hawaiʻi, interviewing scholars and members of community organizations to study the interaction between western and Indigenous science. In Japan, they looked at how local oyster farmers understood and responded to ocean acidification, and the guidebook contains a case study from this.
There are three case studies in the guidebook from their work in Ghana, where they provided resources for a local organization, Social and Scientific Research and Development, to examine efforts to protect beached marine mammals. In fact, according to Sey, they wanted the organization to have full control of the research.
"They proposed the research topic and the design," she said, "they implemented research, and they led the data analysis."
This type of partnership dynamic isn't easy to manage, and researchers were candid about the difficulty of finding ways to achieve this level of inclusion. A big challenge is control. Rothschild explained, "How do we keep inclusion at the forefront even when sometimes deep in our guts and our minds, that may feel like we are giving up something that we aren't prepared to give up?"
They plan to make master files of the guidebook available for download so that community organizations can revise and update content to be more relevant to their experiences and needs. "This isn't something that we want to hold on to tightly; we were actually very excited to let go and open the reins and let people adapt, refine and adjust the way they want to," Rothschild said.
The Information School has made climate-focused research a priority, and information science research is critical in understanding how changes to the ocean affect people's lives.
"Information is not just numbers," Ota said, "It can carry the dignity of individuals."