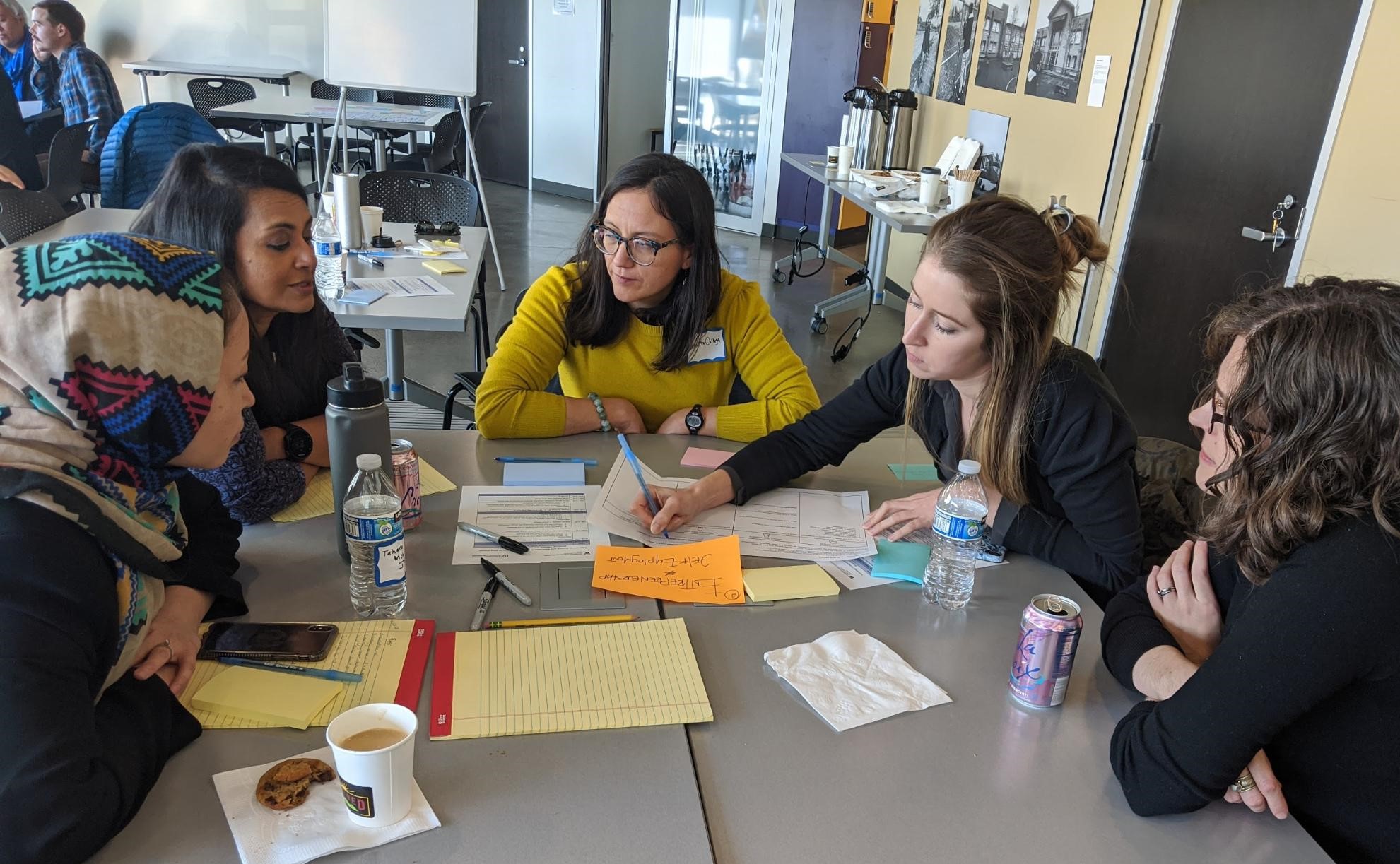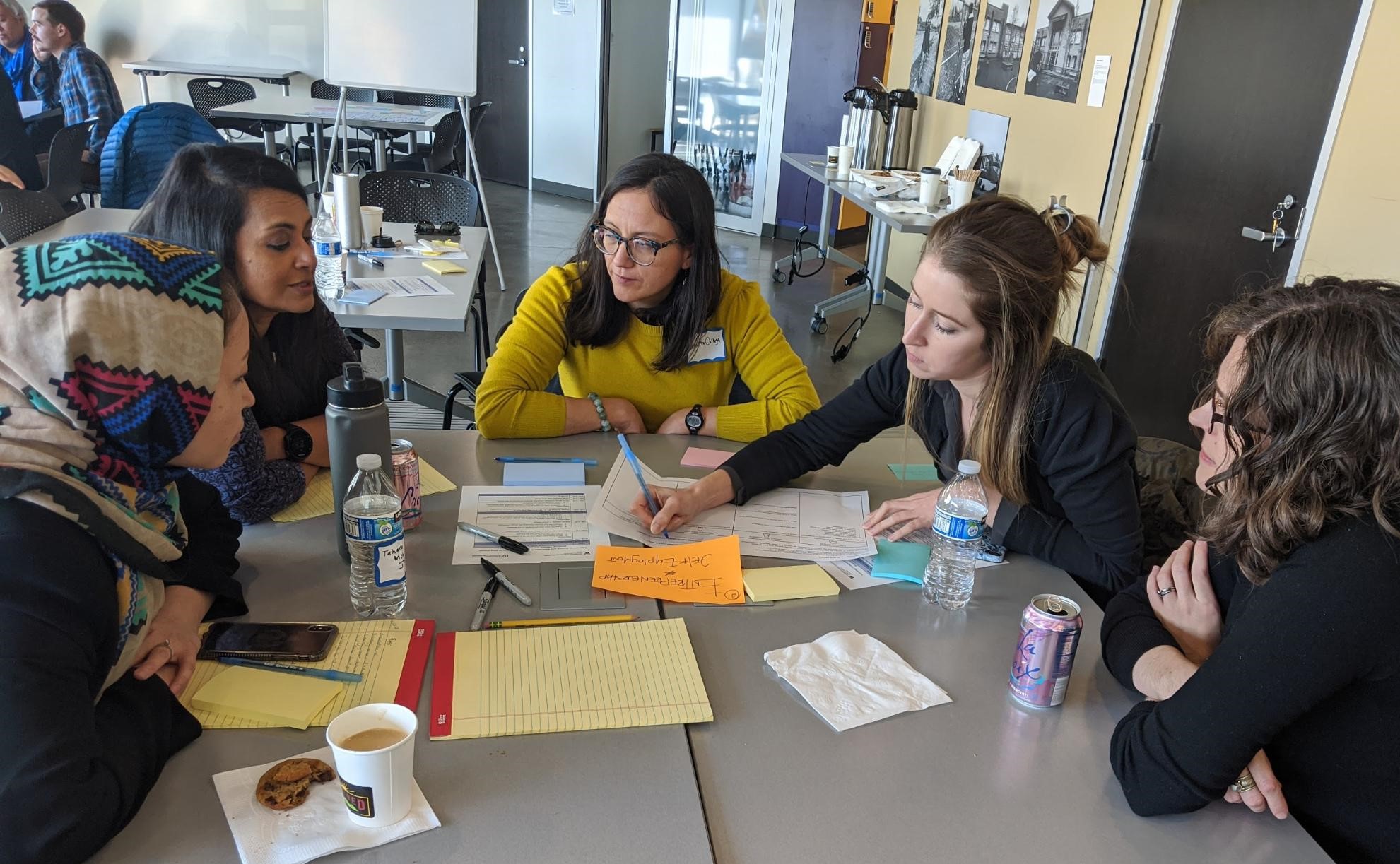 For refugee women in Seattle and King County, technology education plays a key role in learning to navigate life in their new community. 
Our research team explored refugee women's experiences with technology-related programs and services as part of the Refugee Women and Technology Education project. The study is based on interviews with representatives from public libraries, nonprofits, government and resettlement agencies. During a recent workshop, we discussed our findings with practitioners from immigrant and refugee-serving organizations, some of whom we had interviewed for the project. The workshop included co-design activities, meant to engage participants with the research findings, reflect on gaps in technology-related services for refugee women, and discuss ways to address these gaps. 
The relationship between technology, culture, and resettlement is visible in everyday examples of women applying for jobs, taking the bus, using translation tools, maps, or online school platforms to communicate with their children's teachers. We defined technology to include many activities associated with women's work, such as sewing. This broad definition gave us a different perspective on how women from refugee backgrounds engage with technology. Examples include mastering sewing machines, sharing cultural knowledge over YouTube, and using mobile phones as part of English language classes. Some of these tools and social media applications are considered less technologically significant in the popular repertoire than, for example, using the computer. However, the complexity of skills, techniques, and machinery used for sewing production or to share complex feelings and histories over mobile phones are not necessarily less complex than other digital tech. 
Reflecting on the gaps
The workshop took place at Othello-UW Commons, a space in Southeast Seattle where University of Washington faculty, staff, and students can engage with community partners. We chose the Commons because we wanted to meet our collaborators near the communities they serve, and to support local small businesses catering the event.
We invited workshop participants to break into groups and sketch out a potential program or intervention related to one of four themes uncovered by the research: technology literacy, entrepreneurship and self-employment, emergency preparedness, and sharing and coordinating resources.
The role of trust between refugee communities and service providers came up again and again. So did the importance of developing programs with communities, not just for them. 
The issue of funding factored into many of our conversations throughout the workshop. Our research showed that existing funding structures make it challenging to offer technology education for refugee women.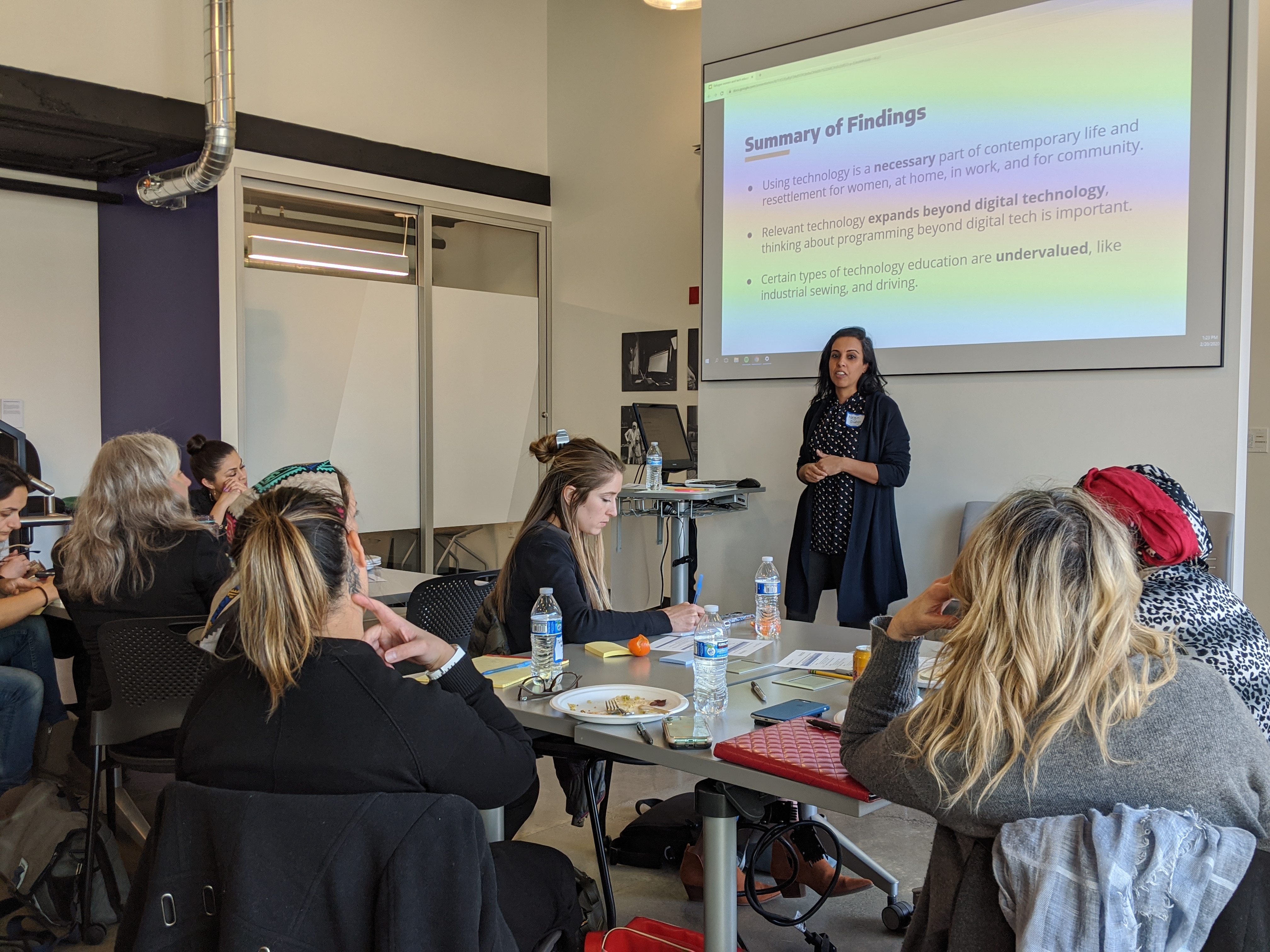 For example, many funding sources come with strict parameters restricting how, and for whom, the money can be used. The lack of diverse and consistent funding also creates competition for the limited available opportunities. The need for greater support and involvement from the region's booming tech industry was top of mind for many participants. 
Refugee women's experiences, backgrounds, skills, and needs are incredibly diverse. Even so, many refugee women find themselves in vulnerable positions. The discussion turned repeatedly to the challenges of serving preliterate women (those who do not read or write in their primary language), who are especially marginalized by Seattle's digitally powered social landscape. Recognizing refugee women's skills and the strength of their communities is no less important.  
Building connections
A reception after the workshop offered more opportunities for participants to share resources and connect with UW researchers, faculty and students. Our goal was to create a space for purposeful networking, and to envision the role of researchers and universities in technology access and education for refugee women. We hope conversations at the event inspired new ways to collaborate. Some discussions, for example, explored ideas for technology-focused class projects that university students could develop to benefit refugee-serving organizations. 
The workshop represented an important milestone for the project: Taking the research back to practitioners. Our work is not done, however. We are working to finish and publish the report, as well as exploring other avenues to share our findings.
Learn more about technology access and education for local refugee women