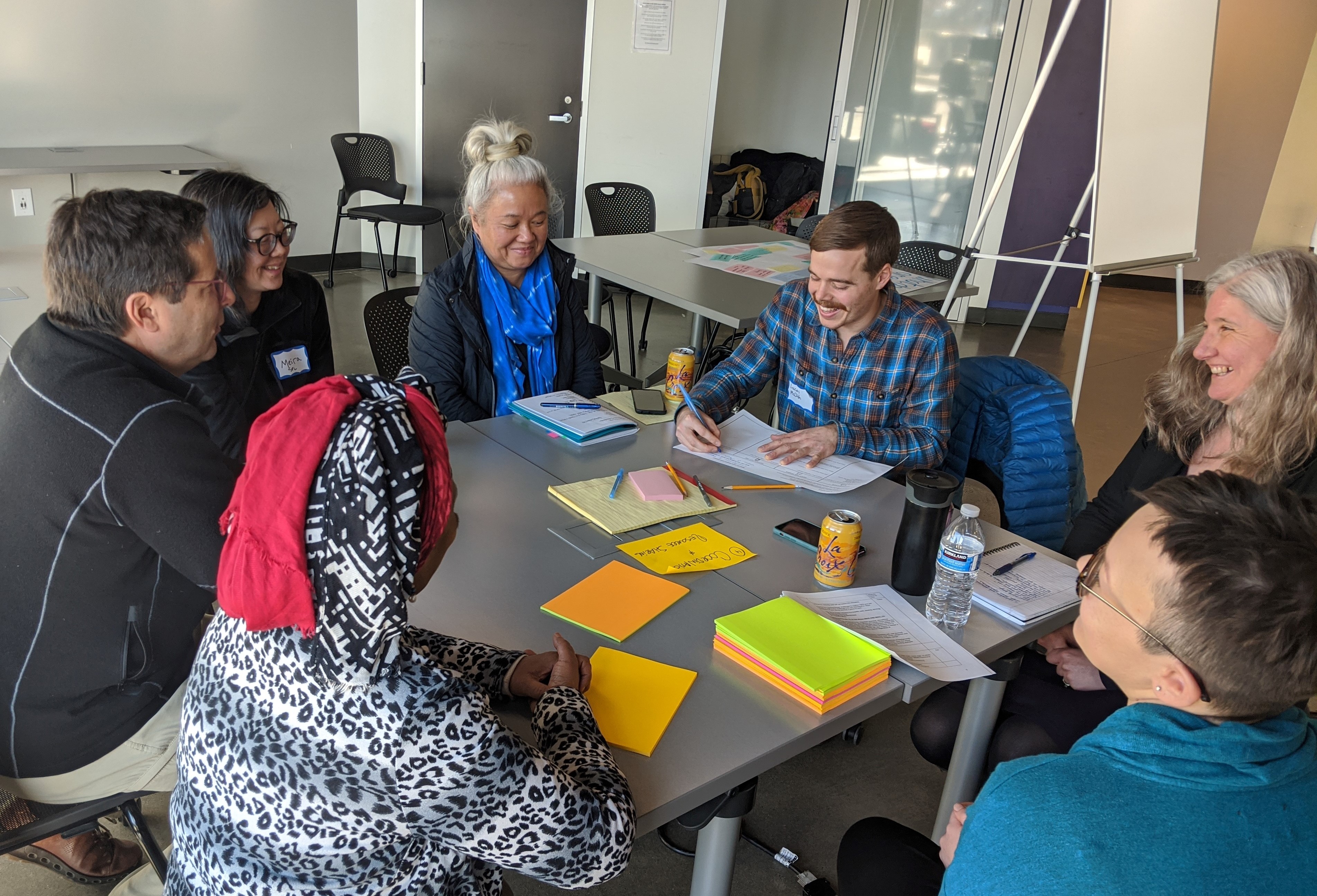 Washington state consistently ranks among the top 10 U.S. states for refugee resettlement. The state welcomed more than 14,000 refugees in the past five years, and 1,930 refugees in 2019. Most of these refugees come from Myanmar, the Democratic Republic of Congo, Iraq, Somalia, and Ukraine. While the number of refugees resettled each year fluctuates depending on global events, current political priorities have placed unprecedented restrictions on most types of migration as well as further limitations on available funding for support services and resettlement programs. These conditions impact and limit all programs, specifically those that offer specialized support to women and other groups facing layered marginality in their migration, such as those who are women, queer, and/or disabled. 
Refugee Women and Access to Technology
Given that technology, from cell phones to cars to sewing machines, plays an increasingly important role in day-to-day life, access to technology and technology education programs can serve as a social, cultural, and economic lifeline for the refugee women who now call Washington home. For those refugee women who arrive in the U.S. without a technological background, finding employment, communicating with friends and family, and even navigating the public transit system can be a challenge. 
Many refugee women already live in a precarious social standing. Language barriers, domestic responsibilities, isolation, external factors such as the COVID-19 pandemic, and iterations of cross-cultural patriarchy can exacerbate the marginalization refugee women already experience as newcomers to the U.S. Access to technology and technology education programs could help mitigate the social and cultural marginalization refugee women experience in their communities. 
We began this research in order to better understand the role of technology access and education for women who have arrived in Washington state as refugees. Our focus on women and technology stems from an interest in supporting and exposing services available to refugee women in the United States, where technology is socially and culturally dominated by men. In exploring this topic, we interviewed refugee service providers in the city of Seattle and surrounding King County area in Washington state. 
Research Findings
Our findings from this research suggest that access to technology, particularly digital technology, represents a foundational step in the refugee resettlement process.
For example, interviews with refugee service agencies revealed the importance of mobile phones, and especially smartphones, in the lives of refugee women. Not only do refugee women use mobile phones to communicate with friends and family, these devices serve as tools to practice English language skills, apply for employment opportunities, and communicate with their childrens' schools. For these women, technology education programs that focus on mobile phone use and digital literacy can be extremely useful. Though few programs specialized for a female refugee audience exist, refugee women can access digital literacy and smartphone courses targeting a general audience at their local libraries.
These courses can help refugee women avoid common technological pitfalls: for example, several interviewees noted that participants had someone else set up their phone for them (either a service provider or someone from their family or community), but the women may not have learned exactly how to use their phone and important applications. This assistance may have helped the women in the short term (they got their phones and email set up), but in the long term they may need additional technology instruction. 
Though these types of training are available through some organizations, attracting and retaining women participants can be challenging. Barriers include women's schedules with child care, expectations to take public transportation independently, long travel times, and the sometimes default assumption that learning to use digital tools is not a woman's priority. At the programmatic level, offering these courses can be difficult as well, oftentimes due to a lack of stable funding for technology-related educational programming.
Our research also noted findings on how technology education impacts employment-related services, English as a Second Language (ESL) training, and the family and community life of refugee women. These findings and our recommendations for future technology education programming for refugee women are outlined in detail in our full research report.