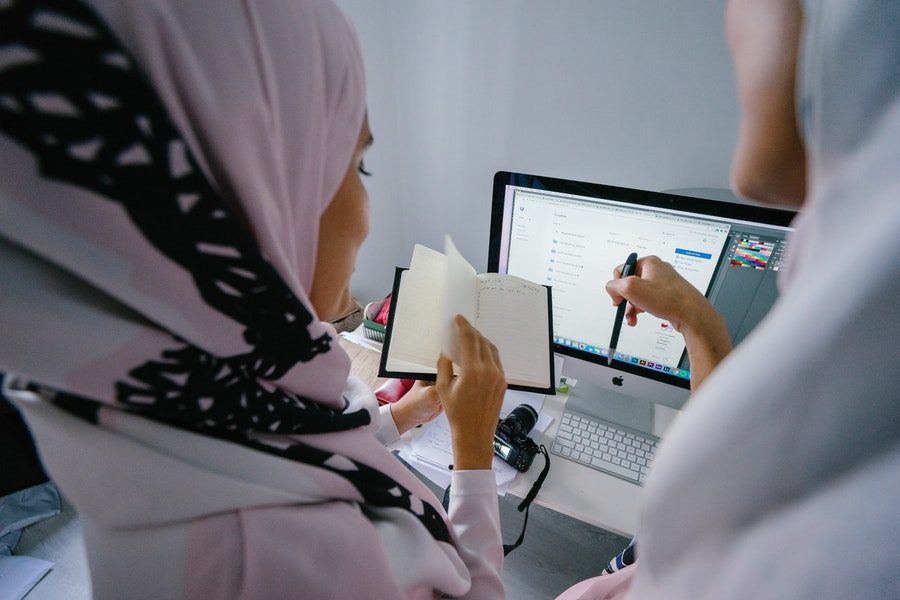 Local Context: Seattle & Refugee Women
In Seattle, home of major technology giants like Amazon and Microsoft, twenty-five percent of people living in poverty do not have internet access at home and twenty-one percent do not have a mobile or smartphone. Many people also lack the skills to use technology effectively and are more likely to rely on others for internet access and use. These digital inequalities primarily affect African Americans, as well as people whose primary language is not English, public housing residents, and the elderly. Women from refugee communities often touch on a multiple of these axes – many are English language learners, and/or living in low-income housing contexts, and belong to ethnic minority groups.
In light of the current crisis, and the central role that technology access and skills play in the changing social and economic dynamics emerging from the Covid-19 pandemic, the conversation around digital exclusion and inclusion of refugee women takes center stage. Exclusion and oppression are often exacerbated for women in migration, where language barriers, domestic responsibilities, isolation, and iterations of cross-cultural patriarchy prevail, placing them on an even higher risk of social marginalization and on the outskirts of technology. Furthermore, patriarchal norms that disadvantage women across society in times of crisis are often worsened, disproportionately affecting women who still earn less money, work more part-time jobs, dominate the ranks of poverty, and are at risk of domestic violence and abuse. For refugees already living in precarious economic, social, and legal contexts, Covid-19 stands to further reify women's existing precarity. 
Indeed, with many economic activities coming to a halt as a result of the health and safety measures, the unemployment rate in Washington State increased from 3.2% in February to almost 15% at the end of March. Many of the industries experiencing the highest job losses – home care and social assistance, retail, accommodation and food services – impact the livelihood of low-income residents, primarily women, who tend to work in part-time, low-wage jobs associated with these industries. 
That is notwithstanding the ways in which refugee and immigrant families who already work in the "gig economy" or other precarious labor become target communities to fill high risk labor gaps or unregulated production lines related to Covid-19 health and safety, as some of our research partners have already described as happening in refugee communities sewing masks, delivering food and care packages, working as volunteer child care, etc. 
Refugee Women & Technology in the context of Covid-19
The Covid-19 pandemic has affected everybody, but it hasn't affected everyone equally. In a context with limited mobility, and with schools, daycares, offices, libraries, and community organizations closed, technology access and education has resurfaced into the spotlight. The effects of the crisis have brought racial, social, and economic inequalities into stark relief further exposing the unsustainable foundations of a political and economic system that must be permanently fixed. Families and communities rely on technology to secure basic needs. Access to critical health and safety information, working remotely, shopping for food and other basic goods, as well as online school, relies on access to a stable internet and adequate digital skills.
Even though the reliance on technology for different aspects of our lives is not new, the dynamics emerging from the pandemic have positioned technology at the core. This leaves many communities who can't afford internet access and devices at home, or are not digitally literate, further at the fringes of society and without the means to fully participate in daily life. 
In Spring 2019, we collaborated on a research project focused on refugee women and technology. Our study involved interviews with individuals and groups working for resettlement agencies, public libraries, community organizations, and some government agencies. We aimed to map and understand a landscape of programs and services offering technology access and education for refugee women and their communities in Seattle and the surrounding King County area, in Washington State. 
On February 20th, 2020, we shared the preliminary findings of the study at a workshop with these organizations, researchers, and some government representatives. The focus of the workshop was to discuss different strategies to improve technology access and education for refugee women in our area. Little did we know that an emerging pandemic would quickly amplify these digital inequities in a few short weeks.
It has been made clear to us how technology access and education for women – who are subject to the systemic structure of refugee status – risk further disenfranchisement in the face of crisis. For example, newly arrived refugees in Washington State have 180 days to secure independent income to support their families. This, combined with traditional expectations around domestic labor and child care, can leave some women further isolated to the home and with limited digital connections to the outside world. 
Although this research took place before Covid-19, we situate our findings in the context of current emerging global dynamics related to technology, politics, economy, and society. We discuss how these findings impact refugee women directly and refugee-serving organizations who are adapting to better serve their communities in the context of this crisis.
Research findings in the context of Covid-19
1. Technology access and changing family dynamics
Our study findings show that mobile phones, especially smartphones, represent the primary, and sometimes only device through which program participants communicate and access the Internet. For women, mobile phones also represent important tools to seek and apply for employment, manage their business, practice English skills using language apps, communicate with schools, and manage their health or immigration appointments.
Home internet access is limited in these communities, as families cannot afford this extra expense and often depend on shared access locations such as schools, libraries, and community organizations to use the Internet. Internet mobile data is expensive and this shared access represents an important and more affordable option for internet use. Literacy and access using these tools is then critical, more so during this pandemic. However, a lack of privacy in the home and the closure of schools could greatly diminish the significance of such tools in the hands of women with even less opportunity to use them. 
With the main public internet access locations temporarily closed, many families are also facing higher mobile phone bills as they have to rely mostly on mobile data to access the Internet. The impact on family finances is exacerbated when kids of different ages and learning needs depend on internet access to continue their schooling. Many important services and resource websites are not optimized for mobile, such as the Washington State Unemployment website. The reliance on smartphones for internet use adds another level of complexity, as many families cannot afford computers or tablets to facilitate children's online learning. 
Some organizations are devising different strategies to address the limited internet access in low-income communities and support parents schooling their kids. The Seattle Public Library, for example, has extended loan periods for Wi-Fi hot spots to help low-income communities stay connected while the libraries are closed. Seattle Public Schools is in the process of distributing laptops and Chromebooks (some donated by a major tech company in the city) to families in need. But, the progress for this herculean task is slow, and the needs are high. Refugee service organizations are offering homeschooling resources to support children with school work and remote learning, and aid parents in this process. These resources include volunteer tutors for children, videos produced in the primary languages of these communities to guide parents with homeschooling, among others.
2. Entrepreneurial activities are an important source of income for refugee women 
Technology education is embedded into different employment-related programs and services available for refugees since the very beginning of their resettlement process. The variety and availability of these programs depends greatly on the type of population targeted – if they are newly-arrived refugees or have been settled for some time – and the funding streams available for the organizations. Job search and career counseling, entrepreneurship, and professional certification surface as the three main categories of programs available for women and communities from refugee backgrounds that include a technology learning component.
As mentioned earlier, resettlement agencies working with newly arrived refugees and receiving federal funding, have three months to prepare their clients for employment or economic self-sufficiency before the benefit for this support expires. During this time, basic digital technology training focused on job search, how to apply for a job, building a resume, practicing job interviews, and professional communication are the main priority of many organizations. Programs that support longer-term employment outcomes for populations from refugee backgrounds with professional training – architects, engineers, doctors, etc., integrate more advanced technology training, including MS Office certifications, different online courses and tutorials, and professional certifications to enable them to transition into their fields of expertise. 
Programs that support entrepreneurial activities for refugee communities are particularly important for women who come from cultural backgrounds where working outside the home is discouraged. Entrepreneurial activities often have flexibility with regard to time, allowing women to choose how, when, and with whom they are going to work, while fulfilling the role of child and domestic care carers for their families. Home childcare businesses and sewing are two of the most prominent training programs that combine technology skills applied to business management (basic computer skills such as typing, using word processor, spreadsheets, etc.) and support to apply online for certification and proper licensing to run their businesses. 
With unemployment rates soaring in the state, and the possible gap in access to services and programs that can support them in their job search, it is still unclear how refugees in the initial stages of the resettlement process will secure income before their government funding runs out. Although refugee service organizations are striving to support refugee communities in these difficult and uncertain times, there is limited access to services and programs, including technology education, that significantly impacts the initial resettlement process. In the current political environment, it is also unclear how the federal government will adjust funding requirements for refugee-service organizations in the context of the crisis. At the local level, the City of Seattle has published an extensive list of resources to support the city's residents, including immigrant communities, affected by the pandemic. 
3. Funding for refugee-serving organizations
Many times over, we heard from interviewees that current funding does not meet the demand for technology education programs, that funding is limited, and is inconsistently available year to year. Many funding bodies are redirecting their resources to Covid-19 related initiatives. While these initiatives are meant to benefit society as a whole, community sub-groups with distinct social, economic, and political parameters guiding their lives, like refugees, can fall through the structural cracks. 
Resettlement agencies and community-based organizations tend to rely on restricted grants or other funding which dictates how and on what to use funds. Time limits are shifting in the time of Covid-19, when government processes are at a halt and day-to-day life leaves many people with even less time to take advantage of limited available resources. In a context where most available resources are now online, those without reliable internet, strong tools, or adequate technological literacy are left in further distress. 
Funding towards technology, literacy, and English language learning could be critical for many communities to stay informed and engaged about health, safety, education, and recommended social norms and practices during Covid-19. Resources are emerging to support community sub-groups, such as this shared Covid-19 resource list for undocumented communities and various funding pools listed by Philanthropy Northwest. More resources of this kind, dedicated to refugees and technology, may be needed as the pandemic and its economic fallout persist. 
In these uncertain times we must embrace values of solidarity, compassion, and care
As researchers, and human beings, privileged enough to have a home, a stable internet connection, are digitally literate, and have the opportunity to work remotely, and provide for our families, we aim to shine light on the situation of communities often overlooked with fewer resources at hand. Amidst the crisis, these privileges cannot and should not be taken for granted as many families and communities have been severely impacted by these changing dynamics and are struggling to secure even the most basic needs. As a society, we must stand in solidarity with the communities hardest hit by the effects of the pandemic and embrace ethics of care, with the hope that this new sense of normalcy emerging from the crisis can help us create more just and inclusive communities.  
With no clear sight on when and how this crisis will end, communities in the most challenging conditions will need different kinds of support to avoid falling further into the fringes of society. Although this research focused specifically  on refugee communities, there are many other communities, including immigrant, undocumented, low-income, rural, and Indigenous communities, that will need additional support. Funding structures must be put in place to attend to each group's specific needs, sometimes at the most basic level. Unrestricted funding will allow the organizations supporting these communities to create distinct and ad-hoc programs that can help mitigate some of the social and economic impacts of the pandemic while preparing them, to the best of their ability, for an uncertain future. 
Review the Technology Access & Education for Refugee Women Workshop Notes
ԺԺԺԺ
Acknowledgements:
We would like to thank all the individuals and organizations that participated in the research. The research was supported by a TASCHA Innovation Award, funded by the Bill & Melinda Gates Foundation. The February workshop was supported with funds provided by the University of Washington Technology and Social Change Group Innovation Award and the Information School Research Seed Fund
Recommended citation:
Garrido, M., Dahya, N., Wedlake, S. & Yefimova, K. (2020). Technology access and education for refugee women in the context of Covid-19. Research Brief. Technology & Social Change Group, University of Washington.