Creating a Digital Bridge: Lessons and policy implications from a technology access and distribution program for low-income job seekers
Presentation at TPRC 49 (Policy Research Conference on Communications, Information and the Internet)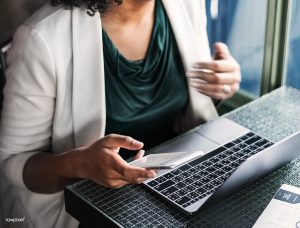 Researchers from the University of Washington worked with the City of Seattle and Seattle Jobs Initiative (SJI) to investigate how physically distant technology access and assistance could support workers in a new economy. The Digital Bridge project is just one of many programs that surfaced during the pandemic that sought to connect people with the basic digital technologies they needed after community access points, such as public libraries, closed their physical doors. Digital Bridge distributed almost 197 refurbished laptops and 174 internet hotspots to low-income job seekers enrolled in SJI and partner workforce development programs in 2020. In addition to these technologies, participants in these programs received employment case management and some were enrolled in short-term online job training.
 The team sought 
To understand participants' existing technology skills, sources of technology support, and what assistance they need to use their new technology

To understand what resources organizations need to support participants with their technology
Program participants
The mixed methods study design collected demographic data from program recipients (n=180) and also asked participants to take the Northstar Digital Literacy Assessment (n=49) to better understand current digital skills abilities. SJI led the quantitative data collection. The UW study team led qualitative data collection. The team recruited participants (n=15) to participate in 7 days of audio diaries and follow-up interviews. Participants were also compensated for their time. Additionally, case managers (n=4) were recruited to complete 5 days (or one work week) diaries and then they participated in a focus group.
The demographics of participants reflect the unequal distribution of job losses in response to initial pandemic shut downs. The average Digital Bridge participant was 37 years old with an age range of 18 -64, female, and Black or African American. Just over half of the participants were immigrants, refugees, or asylees (some were ELL). And 34% were experiencing homelessness which includes couch surfing, staying in an RV or shelter, or sleeping on the street. Upon entering the program, the majority of participants had only one device – a smartphone. And 7% had no device at all. Due to pandemic shutdowns, 42% had no access to the Internet at all prior to Digital Bridge and those that did have internet access, the most common way was a data plan.
Due to the fact that participants primarily used the Internet via smartphone, they were able to use apps and basic web searching however they lacked foundational computer skills which is reflected in less than 25% of those that took the Northstar assessments received a passing score. And then, for English learners, language barriers intersected with technology problems.
Participants less familiar with their devices likely influenced that the self-help resources provided by the program largely went unused. These resources included refurbisher's technical support phone line for any tech issues. Participants also didn't use the self-paced online resources. 
Accessing assistance
It was the case managers who became the de facto help desk. In regular case manager interactions, they would discover that the participant never got their computer connected to wifi or that they were struggling with email. This meant that case managers ended up spending their time providing technical and digital skills support on top of all their other job duties. 
For participants that did have family and friends that they could rely on, they used those quite a bit. Others also used their faith and other community connections too but not everyone had these resources.
This quote from participant Trinia really sums up the feelings from many of the interviewees, 
Yes, if a virtual computer class was available, I would most definitely take it…[M]ore tech help would be great…help is really necessary. 
The ad hoc nature of the help participants received from case managers and their own networks was essential but not enough. They wanted more structured support.
Tech troubles
The research team also found that to-be-distributed technology needs to be selected based on participant needs and program capacity. Most participants had no technical issues with their refurbished devices or internet hotspots. However, some of the refurbished computers had some battery issues and SJI had to coordinate returns with participants and refurbisher. And overall, computers had shorter battery life than new laptops and participants couldn't always be near an outlet. And the more complicated text-heavy PCs were more challenging for English language learners and less experienced users and SJI has since started offering Chromebooks for most users.
SJI originally had envisioned signing clients for wired low-income internet programs but case managers and participants vastly preferred hotspots. Due to the ease of deployment for the program, participants liked the mobility of the hotspots. However, for some participants, the hotspots simply didn't work in their home – either due to dead zones or type of the construction of their buildings. Case managers spent a lot of time with participants trying to figure out if a tech issue was user error or device problem.
During the interviews, participants emphasized the positive impacts that receiving the technology had on their lives. Due to the pandemic, almost all public internet access sites had closed. For participants, receiving a computer and internet provided a lifeline to access online training, connect with social services, and complete other critical tasks. However, participants also needed tailored digital literacy support and training built into the structure of the program. This means that SJI and other organizations distributing technology need to have capacity to provide one-on-one help and provide technology options.
And what this means for policy is that funding needs to support program overhead and participant support needs, and devices. For example, to continue the program SJI needs funding for technology inventory management, training for staff, and structured digital skills training and support for participants. Additionally, policy and funding can better support successful interventions through greater investments in digital inclusion and digital equity research.
Featured image: "Woman using digital devices at the cafe" by Rawpixel Ltd is licensed under CC BY 2.0