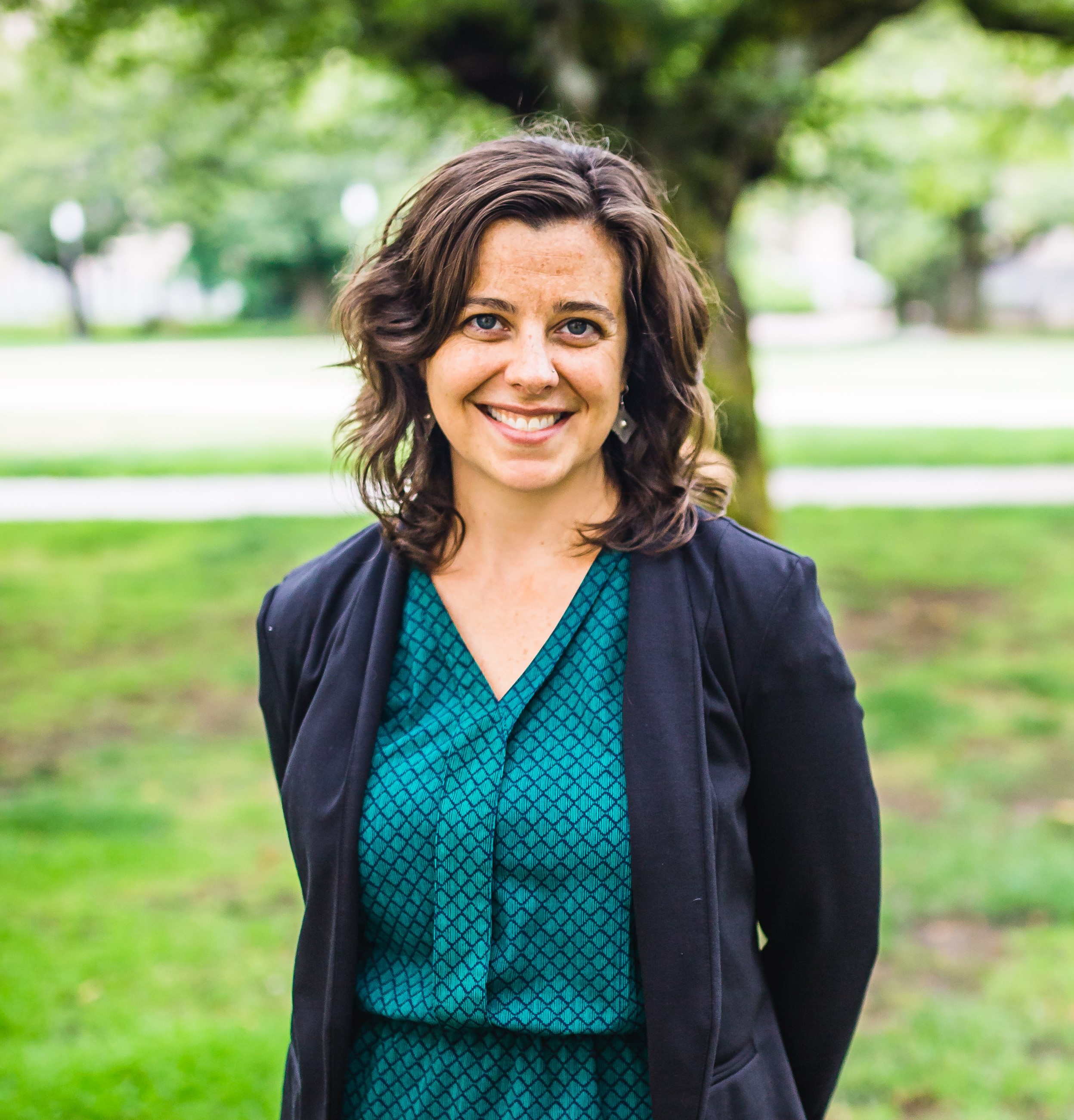 At the intersection of education and activism, you'll find Renee Lynch. Renee became a TASCHA Research Assistant last summer when she saw an advertisement for our Advancing Library Visibility in Africa (ALVA) project.
Originally from the Chicago area, Renee says that "traveling is the best way to learn and to reflect and get ideas." She first taught English in Senegal for a semester and then in Lesotho for a year. Looking to continue English language teaching, she started volunteering at Seattle's Refugee Women's Alliance (ReWA), where she developed an interest in language acquisition studies — or, the study of how people learn languages. The fires of her curiosity stoked, she pursued a master's degree in Teaching English to Speakers of Other Languages (TESOL) from the University of Washington. After working in Sub-Saharan Africa for another year and two years teaching at a local community college, she returned to the University of Washington and began her PhD studies in English. During her first year in the program, she's set her sights on "English teacher professional identity in Tanzania" as her dissertation topic. 
Time at TASCHA
Fast forward to her time at TASCHA. She was driven to work with TASCHA because she wanted to add more practical research skills to her PhD experience. The ALVA project in particular, with its focus on Africa, education, and libraries, piqued her interest. Over the summer of 2019, she largely worked on literature review support, development funding research, and researching the history of public library systems in ALVA countries.
"I'm excited to be in a supportive group environment for figuring things out, and also, gaining sensibilities and sense of awareness that will allow me to do my own research more effectively."
During the 2019-2020 academic Renee has grown to take an even more central position within ALVA. She has carried out over a dozen interviews with international development organizations, and helped to design and implement a workshop that included over 20 library professionals from across sub-Saharan Africa. Renee also recently submitted a manuscript based on ALVA's work to a peer-reviewed journal, and is involved in the authorship of two other potential publications. This represents an incredible contribution to the project. As Senior Research Scientist Jason Young says,
"When we began searching for a Research Assistant to support ALVA, we knew we wanted a graduate student that was willing and able to take ownership of portions of the project. I wanted a student that could be plugged into any stage of research (from literature review to methods design and analysis), could work independently given guidance on overall research goals, and would produce rigorous and impactful work. Renee has fit the bill perfectly – she is producing excellent research and has truly left her mark on the project. I genuinely look forward to our continued work together."
For Renee, her time at TASCHA has offered skills that supplement her other studies. Not only is she learning more about how libraries operate, but she's gaining knowledge about the "development world as a whole." The nitty-gritty details of interviewing, including setting up, conducting collaborative research, taking notes, and organizing data, are skills she'll take with her after leaving TASCHA. She also appreciates that TASCHA emphasizes more of an "activist research agenda, which [she thinks] is something that is sort of rare." Renee said she hopes her time on the ALVA project will help solidify her future career goals and inform whether she wants to continue doing research and evaluating projects in the future. 
Her main goal with ALVA, as well as her PhD program? Following her passions, wherever they lead her.
"A PhD program is a great time to reflect on where you've been and where you're going, and I wasn't able to find that space in the teaching world … For me, Africa is a passion and I think it's been really helpful to think about that place and idea through many different lenses, like working at TASCHA. I would advise anyone looking into PhD or other higher education programs, to seek out other ways of thinking about what you're passionate about."
Learn about Renee's work on the ALVA project