Launching collaborative research to produce a model for teaching civic education for the Arctic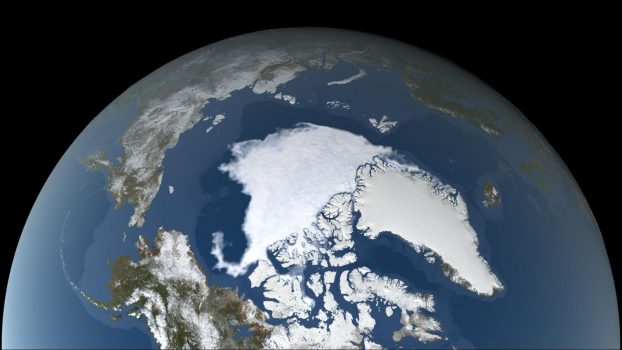 "Arctic sea ice minimum, Sept. 15 2020" by NASA's Scientific Visualization Studio
Jason Young, Nadine Fabbi (Henry M. Jackson School of International Studies), and Michelle Koutnik (Earth and Space Sciences) were awarded an NSF Navigating the New Arctic (NNA) grant funding the co-design of civic education programs for the circumpolar north. The Arctic region is in the midst of unprecedented social and environmental change. Civic education, broadly defined as instructional programs designed to provide students with the knowledge to participate effectively and ethically as members of shared communities, offers an important set of tools to enable Arctic and non-Arctic communities to come together to collectively address these challenges. Unfortunately, few resources exist to support the effective teaching of civic education tailored to the contexts of the circumpolar North. 
This project responds to this gap by building an international and interdisciplinary team to develop a long-term research agenda focused on Arctic civic education. Funding will be used to carry out a series of workshops with collaborators able to speak to the varied disciplinary, geographic, and Indigenous contexts of the Arctic. "We are particularly humbled and excited to be joined in this project by Indigenous scholars and leaders from across the circumpolar North," said Jason Young. Together, they will explore what key elements should define Arctic education such that it prepares both Arctic and non-Arctic students to collectively address the complex social and environmental challenges that define the region. This team and work has the potential to transform ongoing educational practice in and about the Arctic, and to create and define an exciting new area of interdisciplinary research. 
Expanding area-based knowledge in Arctic studies is one of the intellectual priorities for the Henry M. Jackson School of International Studies. The Jackson School already has a vibrant Arctic and International Relations initiative – overseen by the Canadian Studies Center – including a minor in Arctic Studies, a Fulbright Canada Chair in Arctic Studies, a publication series, and a new Arctic blog site, Arctic in Context.
"This project comes at an opportune time for the advancement of civic education in the circumpolar world," observes Nadine Fabbi (co-PI). "The national Inuit association in Canada, the Inuit Tapiriit Kanatami, recently partnered with a private foundation to plan for a Inuit-focused university in Canada – a first for the country and the world. Our research project will parallel this and other educational initiatives to ensure that an Arctic civic education includes a diversity of approaches and contributes to a sense of community for this unique global region."
Featured image: "Arctic sea ice minimum, Sept. 15 2020" by NASA's Scientific Visualization Studio is licensed under CC BY 2.0.
Learn more about TASCHA's Co-Designing Civic Education for the Circumpolar North project