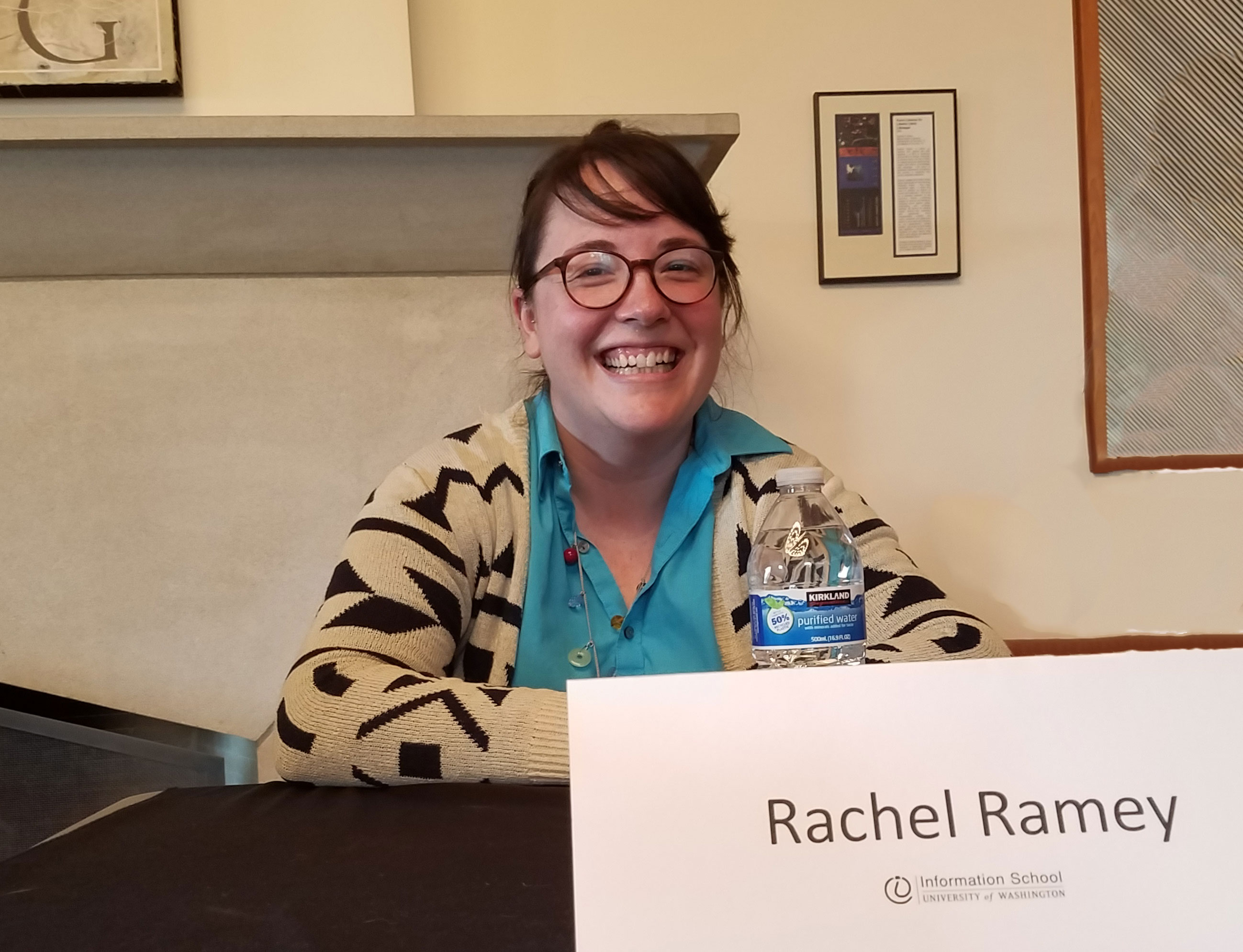 Rachel joined TASCHA as the Communications Research Assistant during her final year in the Information School's Master of Library and Information Science (MLIS) at the University of Washington program where she studied youth librarianship, inclusive community outreach, and information literacy. Prior to starting her MLIS, Rachel worked in the communications field and community with the City of Seattle, which made her the perfect person to focus on TASCHA's digital media presence, in addition to supporting a variety of TASCHA projects. 
It was her position at the City of Seattle that led her to the iSchool and ultimately to TASCHA:
While working at the City of Seattle, I saw how access to information (or lack thereof) can quite literally, change and save lives. I knew I wanted to work in an environment that was affecting change related to this critical issue. TASCHA's work in public libraries, women and technology and a number of other research areas is what drew me to TASCHA. Being involved in TASCHA's work gives me a solid foundation for a future in librarianship and equitable information access.
MLIS and TASCHA
Rachel sees TASCHA's work as particularly important for students in the MLIS program because of its closely-tied relationship to public libraries. Whether or not students want to go into public librarianship, a core part of the MLIS degree is developing a solid understanding of what libraries are and more importantly, what they do:
By learning more about libraries on a global scale, I was able to understand the limitations–and possibilities–of librarianship here in the United States. Through my work at TASCHA, I have also formed connections with librarians and research professionals who are studying the impact of libraries. Being able to use data points from TASCHA research and knowledgeably talk about the developing world's library systems has opened a new toolbox for me when speaking about library access and what it means to different communities.
Despite these well-aligned objectives, Rachel said many MLIS and iSchool students don't fully know what TASCHA does. In addition to the annual research fair and researcher lightning talks, she sees proactive outreach to students (and in particular, student organizations) as a way to engage with more students from her program. 
"Many MLIS students see the phrase 'research group' as a barrier because they don't consider themselves researchers. To remedy this misconception, TASCHA could host open houses specifically for MLIS and other iSchool students to share about their work," she said.
Rachel says that, after her time at TASCHA, she has a better understanding of international information access and public libraries, which gave her a more holistic education experience outside of what her coursework provided.
I'm grateful for this foundational knowledge about libraries, whether they're public, university, or otherwise. It's also made me pay closer attention to what public library- focused organizations are doing in terms of research, goals, and projects, which I think has implications no matter what sector of librarianship I ultimately pursue.
Following her time at TASCHA, Rachel took a position as a Children's Librarian at a neighborhood branch of the Seattle Public Library. She hopes to continue using her outreach skills, as well as the "structure of libraries" knowledge she gained at TASCHA, to pursue public programming opportunities at the branch. According to Rachel, TASCHA gave her a baseline of possibilities for the work libraries can do on a global scale, and now she wants to distill this knowledge and find applications locally, in the Seattle community.