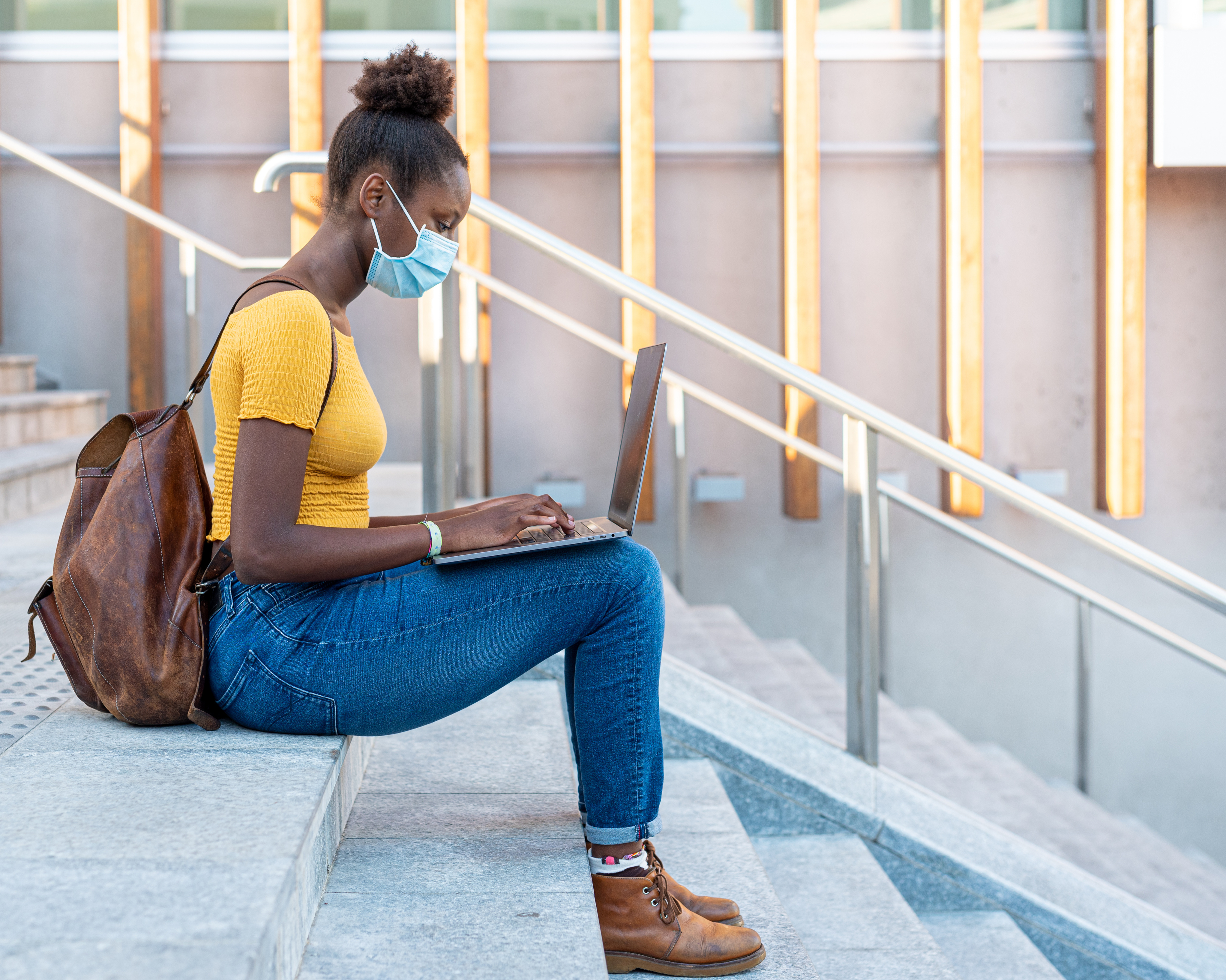 Highlights
With the end of the academic year, it's time to review TASCHA's work of the past year. The COVID-19 pandemic continued to play a role. On one hand we had to either postpone projects or replace field-based methods with remote methods (e.g. Zoom interviews), directly impacting the course and outcomes of these efforts. On the other hand, the pandemic has shined a spotlight on digital inequities, thereby giving increased importance to our work.
Pandemic-induced job losses in early 2020 hit lower income households particularly hard, a segment of the population that is less likely to have a computer or internet at home. In response, an NGO-City partnership in Seattle created the Digital Bridge to provide computers, internet, digital literacy curriculum, and online support. TASCHA led an evaluation of the program, resulting in several conference presentations and papers. Led by Stacey Wedlake with iSchool PhD Candidate Yvette Iribe Ramirez, and Chris Jowaisas along with external partners and authors at the City of Seattle and Seattle Jobs Initiative.
The pandemic also hit the agricultural sector. Fulbright Fellow Matias Centeno, along with Maria Garrido, examined the impact on family farming in Washington State, learning how youth and digital technologies are reshaping rural borders and agricultural practices.
While the pandemic slowed fieldwork for TASCHA's Advancing Library Visibility in Africa project, we continued to publish, including What makes an ideal partner? African libraries and neoliberal discourses in international development (Applied Linguistics). Led by Renee Lynch with Jason Young, Chris Jowaisas, Stanley Boakye-Achampong, and Joel Sam.
Maria Garrido also devoted time to wrapping up some projects and submitting articles for publication, including the Refugee Women And Technology Education in Seattle project with Stacey Wedlake. She also launched a new project with Araba Sey – Blending research and STEM education for gender-inclusive technology development in rural Ghana– that required significant reshaping to account for travel restrictions.
Another on-hold project was Jason Young's NSF Exploring The Benefits and Challenges of Community-Powered Connectivity In The New Arctic. They are finally able to begin the project, with the first round of fieldwork to begin in July.
Jason Young and Chris Jowaisas led a Directed Research Group (DRG) titled "Geospatial Data for LIS" focused on exploring research questions related to communities and public libraries that could be answered through the use of Geographic Information Systems (GIS) tools and open data. Students used the DRG to explore topics related to transportation and accessibility to public library locations through public transit, walking, and bike networks and also looked at languages spoken in homes to understand demand for library programs in languages other than English.
While TASCHA researchers have traditionally favored field-based methods, the pandemic provided an opportunity to employ new methodologies. For their misinformation escape room project, Chris Coward and Jin Ha Lee used online co-design methods to create an online game first, and then produce an in-person version. After additional piloting, led by Stacey Wedlake, the game is now available for libraries and other educational institutions in the U.S. Chris Coward, Jin Ha Lee, and iSchool PhD student Lidia Morris led a series of directed research groups (DRGs) with iSchool undergraduate and graduate students focused on the misinformation escape room. In Spring quarter, DRG students helped code and analyze almost 60 debrief player conversations of the game recorded by public librarians.
Chris Coward, Stacey Wedlake, Katie Davis and Mega Subramaniam (UMD) are working with rural public libraries on the ConnectedLib toolkit, a set of resources for designing youth services based on principles of connected learning. The team has been using remote co-design methods since prior to the pandemic. This past year Chris Coward and PhD student Rotem Landesman led the co-design of a module focused on civic engagement to add to the toolkit.
Chris Jowaisas and Bree Norlander completed an analysis of E-Rate data for the American Library Association to increase understanding of how public libraries are using funding from this program in supporting internet and network connectivity in the United States. Related efforts are being pursued through the Public Library Internet Connectivity project and additional enhancements to the E-Rate Dashboard.
TASCHA also engaged in partnerships with local partners, including through the Community Archives Center at Tacoma Public Library project. This project, sponsored by the Institute of Museum and Library Services, brings community members and organizations together to carry out a fully participatory process to broaden participation and inclusion within cultural heritage collections. This will create a model for institutions in small- and mid-sized urban areas seeking to enter into collaborative partnerships with diverse groups to produce more equitable archives. Jason Young, Anna Trammell, dindria barrow, Marika Cifor, and Chris Jowaisas published a summary of the first phase of the project.
This past year witnessed a number of new and growing collaborations with other faculty and research centers. One project is Jason Young's NSF Co-designing for Trust: Reimagining Online Information Literacies with Underserved Communities. Co-Designing for Trust is a collaboration between academic and community researchers, librarians, educators, and other partners working to design community-oriented solutions to misinformation. In partnership with Black-led organizations and rural communities, the project creates digital literacy resources that help individuals understand and respond to the ways that misinformation exploits our minds, emotions, and social circumstances.
There are many other examples of collaboration as well. The escape room project is one of several in collaboration with the UW's Center for an Informed Public around the topic of misinformation. Chris Coward, with the other four center co-founders, had an article published in Science Advances, How do you solve a problem like misinformation?. Jason Young, Jevin West and Christa Werle put on a webinar for Bibliocommons, Public Libraries and the Battle against Misinformation. Maria Garrido and Stacey Wedlake started new collaborations with iSchool's Megan Finn, Jackson School's Jessica Beyer, and College of Built Environment's Laura Osburn. Stacey Wedlake was one of several co-authors for their conference paper on Data Care During Crisis: A Comparative analysis of COVID data infrastructure builders in India and the USA. Several grant proposals are under review that involve a wide range of collaborators across schools, departments, and external partners.
The year ends with the ICTD 2022 conference, hosted by the University of Washington on June 27-29. TASCHA hosted two workshops. Researching Misinformation in ICTD convened researchers studying misinformation, along with those interested in how misinformation might impact other research programs. Since most misinformation research is situated in the Global North, what do we know about misinformation in the Global South? The other workshop, Reconfiguring ICTD Research in the Wake of Covid-19, invited participants to reflect on their experiences over the past two years of the pandemic, and discuss how we might reconfigure research and collaboration practices moving forward.
Student Involvement
In 2021-2022, students from varied disciplines lead and contributed to ​​peer reviewed publications, research reports, project development and execution, conference presentations, and much more.
Charles Bugre is the third recipient of the TASCHA PhD Fellowship that offers students the opportunity to conduct research with iSchool faculty and research scientists in an area aimed at advancing the public library field. He is currently pursuing a PhD in information Science at the UW iSchool and is working as a research assistant with the Advancing Library Visibility in Africa project. Charles collaborated with Stacey Wedlake and submitted a poster to the ASIST conference and will continue their work over the summer.
Other TASCHA PhD Fellowship recipients include Itza Carbajal and Mandi Harris (Cherokee Nation). Itza wrapped up her fellowship with a reflection on the intersection of archival usage in K-12 education with a focus on environmental and climate change. Mandi devoted her fellowship to using Indigenous Systems of Knowledge to examine children's STEM education at public libraries, with a focus on tribal-led, culturally situated Indigenous STEM storytelling.
Kungsang Choden is an iSchool PhD student and the Research Assistant for the NSF funded Smart & Connected Communities project, Innovations for Community-Held Infrastructure. Choden recently performed a review of existing community-based technology design toolkits and supported planning for upcoming community co-design meetings. This summer she has transitioned to supporting analysis of data from the Indigenous Connectivity in Peru project. Chase Puentes, a Masters student at the School of Marine and Environmental Affairs at the University of Washington, works as the Research Assistant for the Co-Designing Civic Education for the Circumpolar North project. She supported planning and implementation of project workshops, and worked with Jason Young to analyze data from the workshops in order to produce workshop reports.
Jenny Ha, Zack Spolar, and Edwin Lee, UW iSchool MSIM students, are working with Chris Jowaisas on the Public Library Internet Connectivity project. Together, they're focusing on using E-Rate data to compile connectivity speeds and costs for public library outlets in the US who participate in the E-Rate program. This data will be used to analyze which public libraries are currently meeting FCC goals for broadband connectivity.
Chris Coward and Jin Ha Lee's misinformation escape room DRG involved over 20 students this past year, including new PhD student Lindsey Morse. New PhD student Rotem Landesman was the RA for the ConnectedLib project.
Lindsey Schwartz helped with the qualitative analysis of the internship project which informed TASCHA's Leveraging Use of Open Data by Public Library Staff for Community Benefit project. The project investigated the challenges and opportunities for public library staff to use open data to support effective program, service, and partnership planning. Now, Lindsey is assisting Carole Palmer and Chris Coward in organizing a summit on the advancement of LIS research and education in U.S. iSchools.
Outside of TASCHA's research projects, Maria Garrido and Jason Young each taught courses. In the iSchool MLIS program Maria taught Information, Technology and Migration: Designing for Resilience, Agency, and Social Justice. Jason Young taught Indigenous Diplomacies and International Relations in the Arctic in the Jackson School of International Studies.
Departures
With sadness and celebration three people left TASCHA. Bree Norlander took her data science skills to nearby King County Library System. Our administrator Karen Hirst retired after many decades of service to the iSchool. And Rebecca Sears, TASCHA's Director of Strategy and Operations, joined the Air Quality Program of the Washington State Department of Ecology, allowing her to devote the next chapter of her career to a long held passion of hers in climate regulation. We thank them all for their contributions at TASCHA, and wish them the best in their future endeavors.